Hardship does not need an academic definition. As a matter of fact, it is a state we do not want to experience let alone have to define. But the stark reality is that there are lots of people out there that are bowed under the burden of financial hardship especially. And a hardship grant for such individuals would bring so much succor.
But what exactly is a hardship grant? Who gives out hardship grants to individuals and how can a person qualify for such grants are some of the core questions ringing down your guts right now I believe.
Well, those questions and much more are the primary subjects of discourse in this post.
We would try as much as possible to get into the core of how hardship grants work for individuals.
So, do you know anyone going through some form of hardship? Then this might just be the right article you need to pass across to that person.
What is a Hardship Grants?
While we do not pray or plan for it, there are times when just as it is said, "life happens." And when life hits in a bad way, financial props and support could just be the lifeline to get back on track.
This hit could be from a job loss, a wreck to one's home or business which could have been caused by a storm or flood; or it could just be because you are unemployed at the moment. But whatever may be the cause for the hardship, receiving a hardship grant could be a ladder out of the ditch.
Now that we know that there is something known as a hardship grant, let's find out where it can be obtained.
Who Gives out Hardship Grants to Individuals
In the United Kingdom, for example, there are several independent organizations at the forefront of helping individuals in financial turmoil. The hardship grants received from these organizations are however different from those that can be accessed through the diverse grant programs coordinated by UK's government.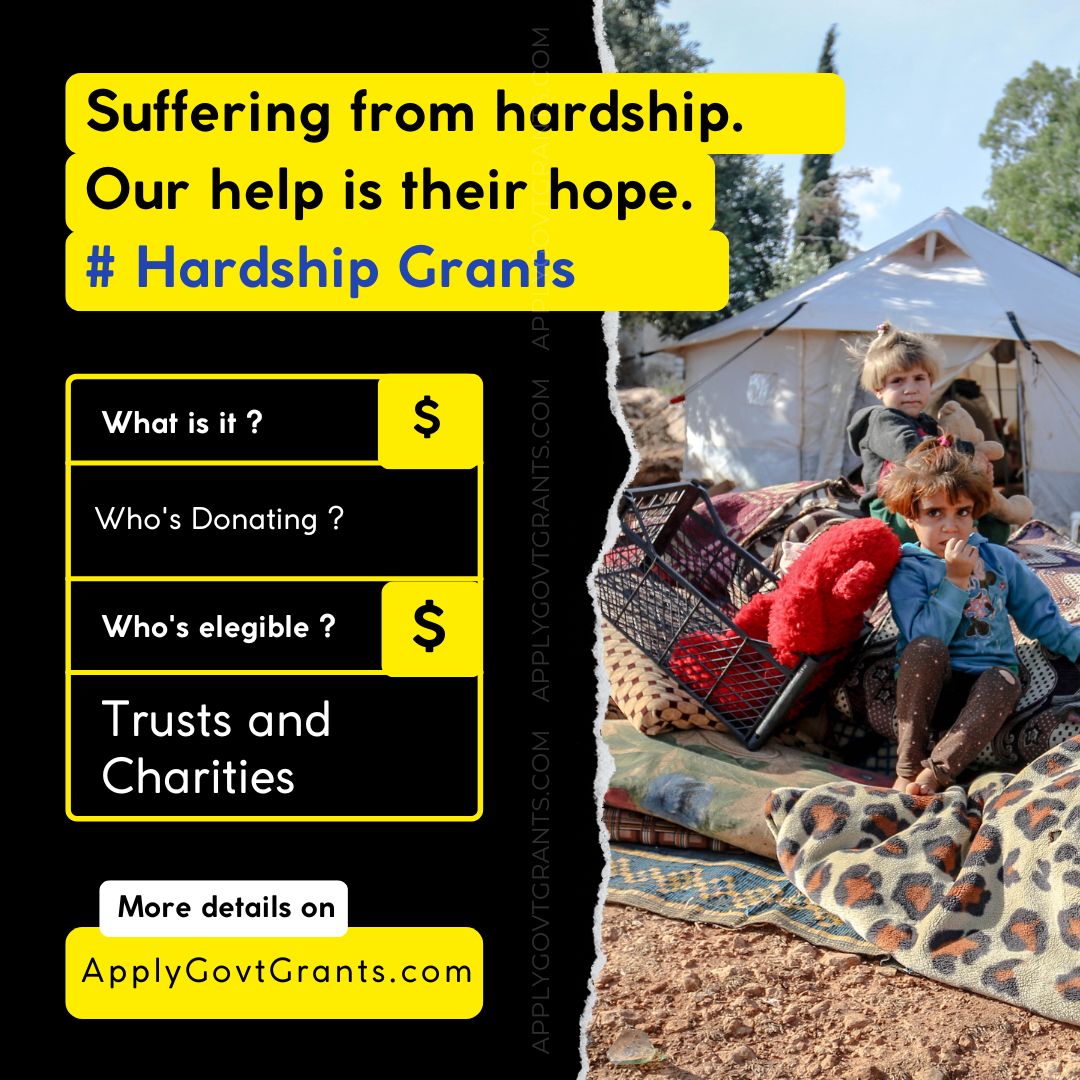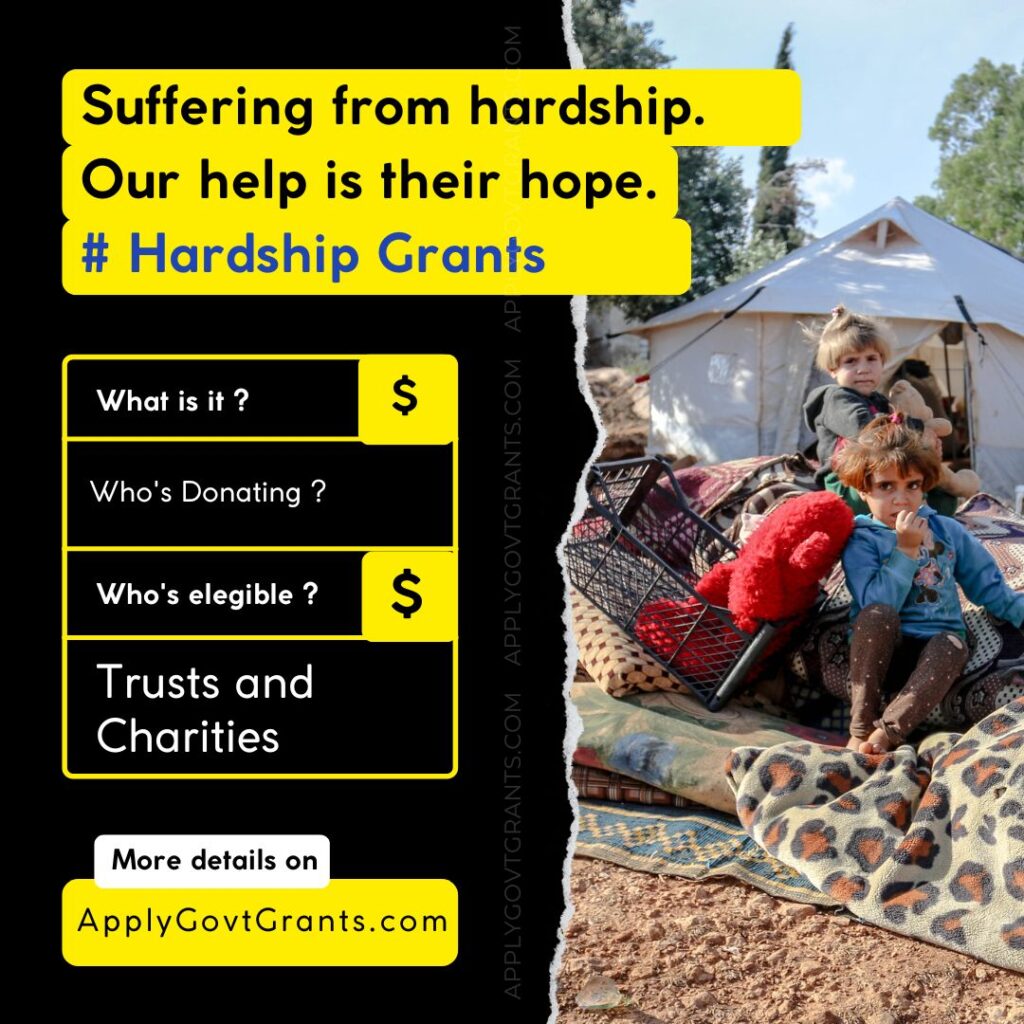 Some of these agencies run an open-blanket grant distribution scheme, while some others are known to offer hardship grants only to a specific gender or career type. In addition, some of these organizations accept only applications from third-party organizations.
So, if you require a hardship grant in the UK, you just might need to do some due diligence to find out which agency has the best offering for your gender or career type.
We have listed a few of these organizations which gives out hardship grant to individuals in the UK.
Glasspool Charity Trust
Al-Mizan Charitable Trust
COSARAF Hardship Fund
The Talismans Charity
Jack and Ada Beattie Foundation
There you have a list of organizations where you can turn to when in need of a hardship grant.
Check Also: Free beds for low income families
Who is Eligible for a Hardship Grant?
Since it has already been mentioned that several organizations in the UK give out hardship grants to those in need. I guess it would only be appropriate to learn about the eligibility requirements for the above-listed organizations.
Let's get started with:
Glasspool Charity Trust
Glasspool Charity Trust is primarily hinged around providing grant support for individuals going through some form of financial hardship.
As an organization, they provide one-off grants; and this they do through the applications they receive from third-party agencies operating only in England, Wales, Northern Ireland and Scotland.
This means an individual cannot apply for a hardship grant by directly contacting Glasspool Charity Trust.
And for the kinds of stuff that you can apply for, Glasspool Charity Trust can provide a hardship grant for items such as baby needs, white goods and basic home appliances.
Next is…
Al-Mizan Charitable Trust
Al-Mizan Charitable Trust is a London-based organization which gives out hardship grants to financially distressed families and individuals across the UK.
Those who choose to get a grant from this organization can fill out the application form available on its website. And for the amount expected, Al-Mizan Charitable Trust gives out hardship grants of up to £500.
COSARAF Hardship Fund
Just like Glasspool Charity Trust, applications to COSARAF are only valid when they come in through recognized social organizations.
To be eligible, the applicant must be a resident of the UK and must show real proof that he/she is in dire need of the grant.
Although COSARAF could give out up to £2000 to an individual as a hardship grant, the chances of receiving more than £500 are pretty slim.
The Talismans Charity
Similar to the eligibility requirement of the other organizations we have examined, The Talisman Charity also requires that applicants are UK residents. Also, the application must come from a third-party social organization.
This, therefore, means that the third-party social organization must deem the applicant fit for a hardship grant. 
Now let us check out a few questions about Hardship grants for individuals.
Frequently Asked Questions (FAQs)
Is A Hardship Grant the Same as Hardship Loan?
Hardship grants are very different from hardship loans because they are free financial gifts. This means that, unlike hardship loans, they do not have to be paid back to the organization that gave them.
Can A Business Apply for A Hardship Grant?
Just as there are hardship grants for individuals, women, families and military personnel, there are also hardship grants specifically for businesses. If you are looking for one, kindly drop us a comment below or on our social media handles and we shall try to research and get some details.
Are Hardship grants only accessible in the UK?
Absolutely not. Most developed countries like the United States and Canada have both government programs and private organizations that give out Hardship grants.
You just may need to do some search to know more about hardship grants for individuals in the country where you reside. Feel like knowing more on any such topic – drop us a comment below or on our social media handles. We shall try our best to bring you some desired results.
In Closing…
Hardship grants are an integral part of our society, as it helps to shorten the gap between the financially rich and the poor.
By taking advantage of a Hardship grant, an individual can get quick financial relief during times of crisis. Such funding could also help in the acquisition of important pieces of machinery like washing machines, dryers, home heaters and many others.
So, in case your personal finance is flashing red alert, going for a Hardship grant could be a better route than being depressed or suicidal.
Or what are your thoughts?